raising the bar on testing and safety
on elevating industry standards with premium small-batch supplements


We are so proud to make a positive impact on the health and wellness of pets across the country, so we've poured our heart and soul into our facility and manufacturing process (learn more about our Seattle MAKERY in our upcoming section). From our soft chews to our oils and powders, a lot of hard work and care goes into making our products, including rigorous lab-testing at every step!
We spare no expense when it comes to quality assurance and our commitment to small batch manufacturing truly separates us from the pack. We make all of our products ourselves with a small and dedicated team of professionals, and we all use and share our formulas with our own canine companions, too - we're all in this together!
our pets deserve the best!
Did you know it's still common for pet products to underdeliver on the potency that they advertise? In one recent fourth-party study, too many of the leading products on the shelves missed the mark by over 25% (Austin and Kat, of course, earned an A+ in this independent survey).


See the report

our packaging pledge
We've fully embraced sustainable manufacturing and we consider the full life-cycle of each product, from raw materials to packaging. Learn more about our Packaging Pledge and partnership with the Pet Sustainability Coalition below!
Learn More
a detailed look at quality assurance
We follow a strict set of criteria to ensure that every ingredient is top quality with consistent purity and potency, testing for impurities and contaminants at multiple points along the way. It takes extra time and effort as our process starts well before the day of manufacturing, but every step is well worth it and gives us the confidence that we are delivering our best. It starts with triple testing our inputs in a 3-step process. We've laid out the details of each below - join us to learn more about our quest for safer supplements!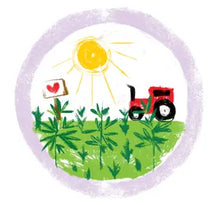 step 1
starting material
It all starts with establishing a traceable chain of custody that tracks and tests the organic material actually used for making extracts. At this stage, pesticides and heavy metals are the biggest focus on our test panels.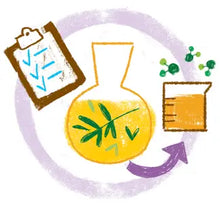 step 2
concentrated extracts
Extracts are standardized according to specific naturally occurring compounds and we test their concentration to make sure they hit their mark. At this stage we are on the lookout for trace chemicals that are signs of poor extraction.
step 3
finished product
The finished product needs to be right on the money for active ingredients relative to what's on our label (it's the only way to deliver consistent results). On this panel we also put a big focus on safety markers around microbial contamination.
we're committed to small batches
Most companies make it almost impossible to make their products with full care and attention. Mass production manufacturers churn out millions of soft chews a year, pushing understaffed crews and old machinery to their limits. Working at such volumes makes proper ingredient dosing and quality assurance incredibly difficult - It's no wonder the vast majority of supplements tested are dramatically inconsistent from batch-to-batch and biscuit-to-biscuit. Not here - we take manufacturing with care and attention to a different level, focusing on making small batches of perfect product with trained teams of happy pet lovers. Every team member and manager all the way up to Kat and I are all in on the process to make sure we deliver our best. It's been a wild ride growing and expanding while holding true to our roots and we're so proud of our team for laying that foundation and holding to it early on. As we grow, one thing we will never do is cut corners, and just because we focus on small batches does not mean our process is less serious than the big box brands.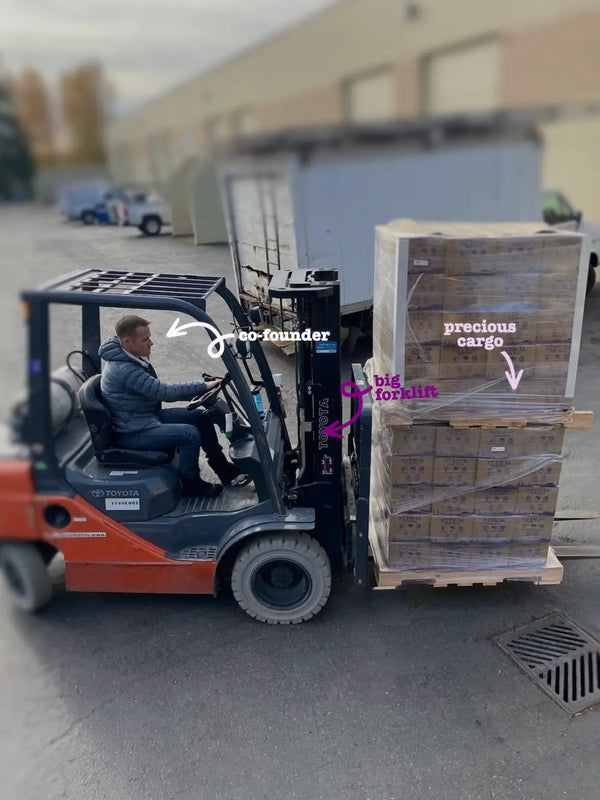 we take a hands-on approach as a team
Did you know that most brands don't even manufacture their own stuff?!? From our supplements to our packaging designs, we proudly do everything in-house. We're one big happy family dedicated to helping pets.
supply chain is everything
We start our quality assurance process with a heavy focus on the input materials, testing their safety and purity well before they reach the production floor (actually, we start with a truly draconian investigation of every supplier's core values and standards; learn more in our upcoming section on Qualifying Suppliers). Before testing even begins, we do a deep-dive on the history of every ingredient we purchase:
Every lot of materials that we receive must be backed by a record of lot control and verifiable certificates of analysis (COA's). Before our ingredients are used in-house, they are sampled and third-party tested by ISO/IEC 17025 accredited laboratories. Lastly, all materials undergo a final-pass by our own expert IQA team. Only then do those ingredients make their way into one of our formulas.
After an extensive materials check we proceed with the manufacturing process using a combination of semi-automated machinery and expert hands. Every single chew, powder, or oil goes through multiple quality checkpoints before reaching a finished goods quarantine. Here, another round of testing ensures our final product is on-point and safe for consumption (we tend to deliver samples to our chief taste-tester, Austin, at this point as well).
When it's time to ship your order we go through yet another expert quality check, making certain every package is in tip-top shape and on the mark. We electronically track all manufacturing runs and match them to your shipments, so we can always trace back every bag of chews or bottle of oil to its component ingredients and the exact day of production.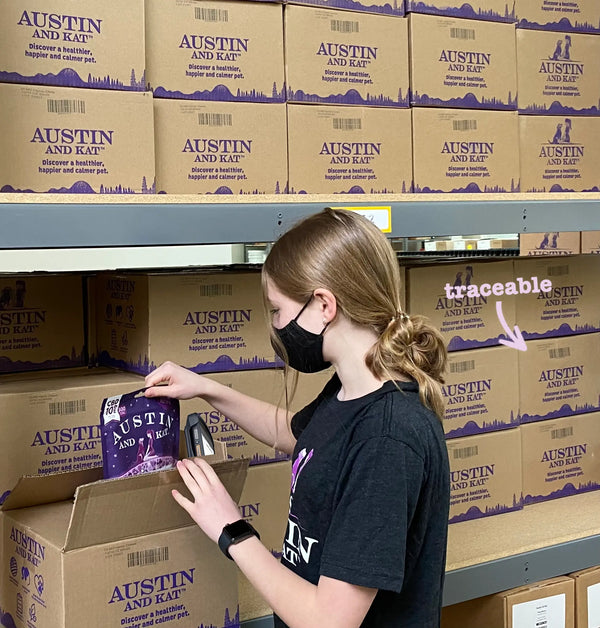 we put traceability above all else
We take chain of custody and supply chains very seriously, as they are the foundation of transparent and trustworthy manufacturing. Every ingredient and component that we use is electronically tracked through an exhaustive process of checks and balances that keep our products at the very best at all times.
pesticide screening
Pesticides are designed to kill or harm living things, so it's no surprise that they can be dangerous to dogs and cats. They come in different categories, including herbicides for destroying weeds, insecticides for controlling a variety of insects, fungicides to prevent the growth of molds and mildew, and disinfectants for preventing the spread of bacteria. Toxic if ingested or absorbed into the skin, pesticides can cause long-term neurological damage and even premature death. When even trace amounts of these compounds make their way into food or supplements they pose a variety of dangers to dogs, and it's much harder to notice a small exposure than a larger one.
Using a technique known as gas chromatograohy and mass spectrometry, pesticide screening can be performed at high rates of speed and sensitivity with the ability to detect numerous pesticides in a single run. Our third-party analysis deploys a comprehensive multi-residue screening testing a panel of over 400 different pesticide compounds of interest.
Some pesticides pet owners should know and avoid are Glyphosate (e.g., Roundup), Imidazolinone herbicides (the "Imi's"), Sulfonylurea herbicides (the "Su's"), and Dithiocarbamates (e.g., EBDC, Mancozeb, and Zineb). If your dog has directly ingested a pesticide from the garage or the greenhouse, it's important to seek veterinary care immediately. Symptoms of severe pesticide poisoning in dogs include vomiting, diarrhea, tremors, seizures, and difficulty breathing. In severe cases, pesticide poisoning can be fatal.
heavy metal screening
The surface of the planet has been slowly contaminated with heavy metals due to the human impact of mining and industrialization. Garbage stuffed landfills, byproducts of smelting, and excess fertilizer supplies all release heavy metals into the air, ground, and groundwater. Plants absorb these metals through root and rhizome networks and they become tightly bound to important structural proteins (interestingly, scientists have developed special plants that purposely absorb heavy metals from contaminated environments with a technology known as phyto-remediation).
Not only do heavy metals impact plant health and soil fertility, they gradually bioaccumulate up the food chain when smaller land and marine animals ingest the same plants for sustenance. When exposed to humans and dogs, heavy metals are acutely carcinogenic at high levels and can impose severe consequences on animal nervous systems over time. While literally almost everything on the planet has some level of heavy metals, low-quality supplement ingredients are notorious for going well above safety thresholds for heavy metal contamination, so it's critical that we are on the lookout for excessive quantities and hot materials full of arsenic, cadmium, lead, or mercury.
potency testing
When it comes to making effective supplements, the potency of our active ingredients is important for ensuring that every chew or dropper is the same every time you reach for it. When a bottle of oil or chew says it has exactly 2.5 mg of CBD, this is the process that allows us to be sure of that. We measure the concentration of active compounds in a given sample using a technique known as high performance liquid chromatography (or HPLC), which involves separating molecules based on their size and charge. Once the desired compounds have been isolated, they can be quantified using tools like mass spectrophotometers (say that 5 times fast!). With these techniques we can easily determine how much of a given compound is present in each input extract along with each finished product.
microbial analysis
Most people are familiar with the health and safety risks of bacterial contamination due to the numerous news stories of food-borne illnesses from outbreaks of bacteria like E. coli and Listeria. In addition to foods, microbial contaminants can be present in many active ingredients used in supplements, especially from companies that use ingredients that are highly processed. These contaminants can come from a variety of sources, including water, soil, and even the air. While most microbial contaminants are harmless, some can cause food poisoning or other illnesses. Since it is so easy to cross contaminate ingredients and supplies, it's important to consistently test ingredients for the following:

Bacillus cereus, Clostridium, perfringens, E. coli O157:H, Enterobacter, Listeria monocytogenes, Salmonella Pseudomonas aeruginosa, Listeria, Staphylococcus aureus, STEC, Aspergillus/Penicillium, yeasts & molds
cannabinoid profiling
There are thousands of cheap extracts out there that contain little more than highly distilled CBD, but our premium broad-spectrum hemp extracts are never ultra-processed. They contain all sorts of important naturally occurring minor cannabinoids that are critical for delivering the full benefits of our each formula through the entourage effect (learn more in our upcoming dedicated section, a Companion's Guide to Canine Cannabis). The ratio of minor cannaninoids in every oil is carefully controlled and chosen by design. So how do we know they're there in each bottle at their desired concentrations? We test every input extract for the potency of a full panel of cannabinoids, identifying and quantitating concentrations of all sorts of hemp-based compounds that are making a splash in research settings across the country (from CBD, to CBG, to CBN, to CBL, to CB you fill in the blank!). You'd be surprised at how many other companies are simply using CBD isolate or other less than desirable options, so always be sure to check for the full cannabinoid profile of any company's extract.
trace solvent testing
While we prefer supercritical extractions using a clean solvent like carbon dioxide, many natural compounds are extracted with the use of alcohols. Basic extraction using ethanol (like grain alcohol) has been around for thousands of years, and this method can yield completely safe extracts when performed correctly. Without proper controls in place, there is risk of leaving trace amounts of solvent in the final product. This is where rigorous testing comes into play, and the wrong results can be a clear sign a supplier is working with inferior methods or cutting corners.
Some ingredient manufacturers will perform extractions with even stronger alcohols like methanol and hexane, but it's extremely important to avoid allowing these materials to make their way into your dog's system. Trace amounts of residual alcohols can effect your dog's cognition and long-term health, while acute ethanol poisoning occurs when dogs consume much larger doses all at once. While it's easier to avoid these extraction methods altogether, it's incredibly important to always test all ingredients and supplies for the following trace solvents just in case: acetone, butane, ethanol, heptane, hexane, isopropanol, and propane.
I'm looking for safe treats for dogs, what makes yours especially safe?
Importantly, we make safe supplements for dogs, known as dosage form animal health products. They support puppies and adult dogs using science-backed ingredients, and they should be given as part of a daily regimen instead of a dog treat. While healthy dog treats are great, we really recommend taking the opportunity to include supplements instead!
When it comes to comparing the safety of our supplements to others, our small-batch process and our extensive testing protocols really separate us from the pack. Not only do we back all of our products with testing, we use them ourselves with all of our pets (they're also safe for human consumption, so Tim tends to keep a few for himself as nice chewy treats to eat around the office!). 
Now back to the important difference between our soft chew supplements and things like training treats. There will always be a space for the occasional healthy treat for your dog, especially for dog trainers as a healthy reward for positive reinforcement (dogs love this approach, too!). There are also new healthier options for dental treats, and we've come across some great recipes for homemade dog treats that have a low impact as well. These healthy treats are still great options For us, our focus is a little different.
Our products are specifically designed to deliver active ingredients while having a very low impact on your dog's food so we do not throw off all the work that modern dog owners do to create a balanced meal. Dog food is taking on a life of its own when it comes to research and scientific progress, and Kat is incredibly invested in it for our dogs, so we'd hate to lose you here (you should see all the raw meat and fruits and vegetables we use, it's very easy to confuse it all for human food!).
We also exclude common ingredients found in store bought treats like grains and meat by-products that are known to cause health problems (especially those with sensitive stomachs that need help with healthy digestion).
We specialize in delivering naturally occurring active compounds in their most optimal forms, and we put in a lot of effort to design all natural formulas with few ingredients and no empty calories (we never use artificial flavors or fillers or artificial preservatives, just the perfect balance of fats and pulse flours plus a little peanut butter that dogs love).
Are they just as safe for small breed dogs vs a large breed dog?
Pet parents can rest assured knowing our products are safe for dogs and cats of all sizes. We include easy-to-follow directions on our packaging and we've made some great guides for CBD dosages for dogs and dosages for cats. All products are soft and easy to consume by small dogs and large dogs alike. Most dogs fall within simple ranges for product recommendations and we recommend a pet owner new to supplements definitely check out our guide. If you have any detailed questions you can always contact our lovely customer service team, as well!
Should any dogs avoid taking supplements for the first time?
Always speak to your veterinarian before starting a new supplement regimen. Many dogs positively respond to supplements immediately while others take a few weeks, but if you see any negative effects (e.g., digestive upset) be sure to stop administration and speak with your vet.
new to pet supplements and looking for the perfect introduction?